Taylor Ewert was named the 2020 Gatorade HS Track & Field Athlete of the Year. She is the 1st Race Walker to ever win this award. Watch the video of her surprise presentation below.
Spend some time learning about the commitment to excellence required to achieve great results as an athlete from many time Team USA member, Emmanuel "Natos" Corvera, as he talks about preparing for the Tokyo Olympics. Listen to the On the
USATF has announced a new Virtual Youth Summer Challenge event to take place from July 10 – July 31, 2020. The event will include a 1 Mile Race Walk. USATF members receive a discounted price of $10, while non-USATF members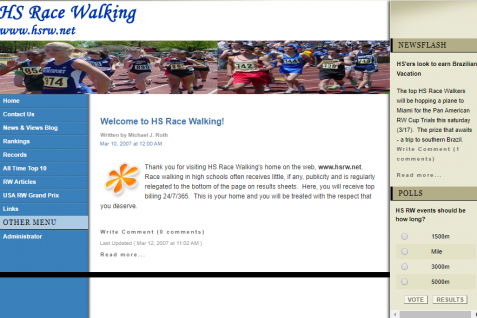 Courtesy of the Internet Archive Wayback Machine, here's a little nostalgic look back to 2007 and what HSRW.net was like then. Thankfully, today we're able to include social media accounts. Back then, they didn't exist yet.