One stop shopping for details on all of the Outdoor National Championships that have a Race Walk on the track events schedule. Here is everything we have on the major post season meets. As details emerge, we'll update this page.
With the Nike, New Balance, Adidas & USATF Youth meets completed, here is our wrapup for the Indoor season in the Race Walk. 2022 returned us to the old status quo of dueling National Championships on the same weekend. The
Too many HS Race Walkers & their coaches know nothing about the options for competing after the HS season and/or once they graduate. Here are two of the major options available to those athletes. The weekend of March 3-5 will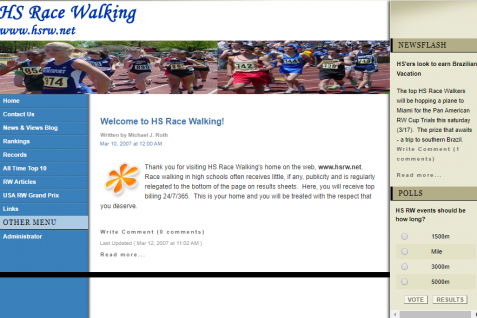 Courtesy of the Internet Archive Wayback Machine, here's a little nostalgic look back to 2007 and what HSRW.net was like then. Thankfully, today we're able to include social media accounts. Back then, they didn't exist yet.