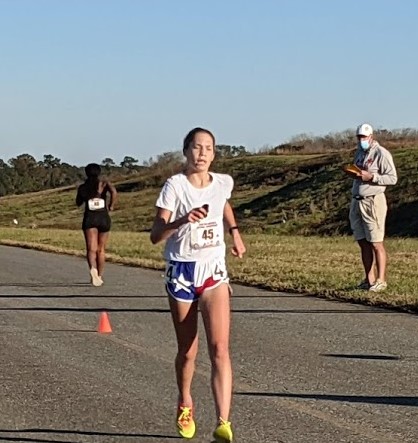 Until recently, Madison Morgan was a name that would not have garnered much attention outside of the Junior Olympic circles. As an ever improving XC runner, things were looking good for her this year. Fast forward to the AAU Race Walk Championships in Tallahassee, Florida on December 5th and the country has been put on alert. The walker from Houston, Texas has served notice that she plans on being the one to beat in the post-Ewert age.
Her big breakthrough at 3km, 14:55.0, erases the long standing Texas HS record of Fiona Dunleavy (15:57.0 – 2014) and smashes her previous PR of 16:14.50 set in 2019. Additionally, Madison is now the All-Time #9 performer at the distance during the winter/indoor season. An improvement of 80 seconds at any distance is a big deal. Doing it in the season debut, is something altogether different and impressive, especially when it puts you in the company of athletes with many Team USA appearances & National Championships in their careers.
With the 2021 competitive season still affected widely and wildly by the Covid pandemic, it's nice to see athletes being able to take full advantage of the few racing opportunities available to them. No one in the Race Walk has taken better control of this, than Madison. It will be interesting to see where the rest of her year takes her and if she can translate this early success into something that leads to international level achievement at levels equal to what she's accomplished in a short career on the national scene so far.