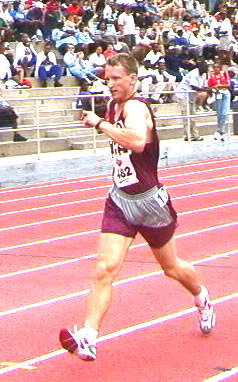 Looking into the history of HS Race Walking, you will notice the name Ben Shorey, from Ellsworth, Maine, as the 2001 HS Athlete of the Year. Ben dominated the HS scene in 2000 & 2001, winning 4 of the 6 possible championships in that time (he didn't race the other 2). He continued on in college at UWP (Wisconsin-Parkside) under Coach Mike De Witt, the dominant NAIA program of the time, and walked up until 2012, when he retired from competition.
Today, he is still ranked highly in the All-Time Performance Lists at #5 Indoor Mile, #3 Outdoor Mile, #16 Outdoor 3000m, #9 5000m, & #4 10000m. His time of 44:16.68 is still the Maine HS Record for the distance. Ben took the time to answer a few questions on what is now the 20th anniversary of being the 1st Boy's HS Race Walk AOY award winner.
Ben, tell us where you first became interested in doing the Race Walk in Track and Field?
Freshman year at Ellsworth. I wasn't so much interested as I was a freshman on a team of juniors and seniors and we needed someone to race walk for the points.

How many State titles did you win while in HS in Maine?
2 (in the 1600m Race Walk)

Where did you compete at collegiately and tell us about your achievements there?
I competed at the University of Wisconsin at Parkside in Kenosha WI. While there I won a USATF Junior Olympics title and was named male athlete of the meet. My freshman year I won the NAIA outdoor Race Walk, which was our last time competing in NAIA. (UWP moved to the NCAA the next year, ending a 2 decade dominance of the RW for men & women, but still offered scholarships and coaching for RWers until Coach De Witt left the program.) I won the Penn Relays 10000m Race Walk event three times. I made one World Cup team (an IAAF Team Championship for Race Walking contested every other year).

What was your academic focus while in college?
Anthropology and Sociology

When did you turn Pro (YES, there is Pro Race Walking!) and take us through your journey.
If by Pro you mean a sponsor then my last few months of Race Walking in 2012. After university I was burnt out in 2006. I stopped walking, moved home to Maine worked 60 hours a week, and got married. I moved back to Kenosha in 2007 and started walking again with a few friends from Parkside. By 2010 I was training with one good friend Steven Quirk and by 2011 I was training alone with no coach. I finished third at the 2012 Olympic trials and was offered a sponsorship from Elliot Denman (of the Shore AC). I was done Race Walking in the Fall of 2012.

What were the highlights of your Pro career and titles?
Honestly none, technically I was the first American finisher at the US 40K but two other internationals beat me fairly.

When did you decide to move on from competition and where did that take you in life?
I pulled my hamstring pretty bad during the 40k (USA 40km Championships in NJ) in 2012 so I took some time off. I was teaching full time Special Education and wanted to have a family. I woke up one day and knew it was time to move on so I just stopped.

Ben, what advice do you have for young Walkers who want to become the best they can be?
It takes a lot of time and commitment. You need a strong support group, training partners are always nice and if possible funding to train with the best.
What was your greatest achievement in Race Walking during HS?
Probably being invited to the Millrose Games.
What were the most memorable moments of your HS Race Walking experiences?
State meet my Senior Year, the first 10k I ever walked. The first time I broke 6min for the mile. 
What did you learn from those moments that have guided you in life outside of your athletic career?
I learned how to work hard, patience, and the importance of having fun.
(Top photo of Ben Shorey winning the 2001 HS Nationals Mile – PC Dyestat)