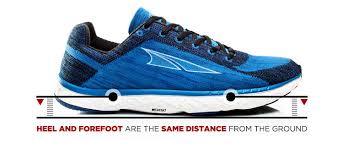 One of the most asked questions of coaches and other athletes is what shoes should I wear for Race Walking? There is no right answer for everyone, as each athlete has individual needs based upon their gait and foot shape. You definitely want to try on any new style or brand to make sure that it fits you properly and feels good when you walk. This way you can avoid blisters and other problems that occur because the shoe does not work with your body.
The one detail on shoes that is critical across the board for Race Walking is a low heel, so that you can make heel contact and have the toe elevated when that occurs. This means that you are going to need to look at road racing shoes, which are less commonly made today, or something in the category of Zero Drop. Zero Drop is where the height of the heel and height of the ball of your foot are the same elevation from the ground. Shoe manufacturers have accomplished this in variety of methods and with many different amounts of midsole (the soft foam between your foot and the bottom of the shoe).
To assist in finding the right shoe for your Race Walking, I've included a link to a review of over 100 Zero Drop shoes as a reference point. Reminder, your best way to determine if a shoe is the right one is to visit a local running store (or other chain sporting goods store like Dicks, if that is all you are near) and try on the shoes. Only after you have identified the right shoe by fit and function should you order them online.
Anyway, happy walking, and here are the Shoe Reviews.