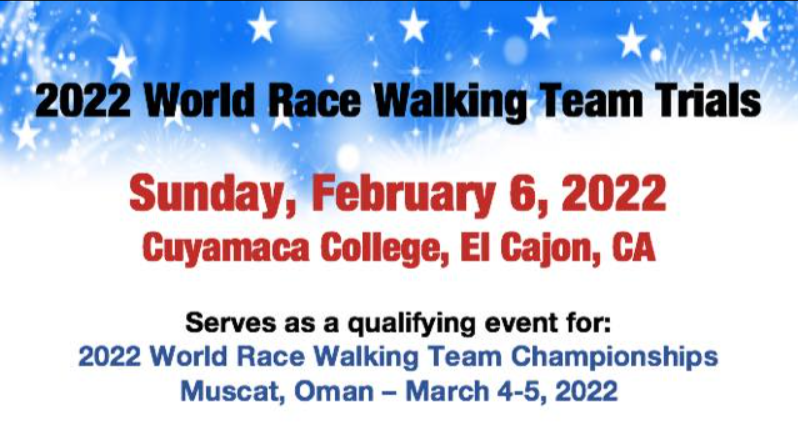 Cuyamaca College in El Cajon, CA was the host of the US Team Trials for Men & Women wishing to compete in the World Team Championships in Muscat, Oman on March 4-5. U20 athletes were racing 10000m alongside the Open athletes, who were covering 20000m. That's 25 or 50 laps of the 400m oval, if you're curious.
The women started first, at 7am PT, with the men following at 8am PT. Conditions at the start were rather chilly for the San Diego area, with temps in the mid 30s. This while uncomfortable for the event staff and volunteers, was a benefit for the athletes, as they would not overheat early in their races.
Walking together for most of the race, which we were able to observe via the live feed from stalwart Facebook broadcaster Sharon Gruttadauro, the women set a fast pace hoping to get under the qualifying time of 53:30 set by USATF to earn a team spot.
All 3 women easily achieved their goal and will be eligible to represent Team USA next month. Angelica Harris (IL), the 2021 HSRW Athlete of the Year, won in 50:44.37. She's US #1 and All-time #5 now. In second was Heather Durrant (IL) in 51:05.93, now US#2 and All-time #9. Third was Adeline Johnson (CA) in 51:55.01, US#3 and All-time #17. Additionally, Johnson broke the 21 year old CA HS record of Olympian Robyn Stevens (52:04) from 2001.
The men had a tougher time, as the standard of 47:00 to make Team USA is something that has not been done by a HS athlete since Cameron Haught in 2016. Nevertheless, they persisted, hitting US#1 & #2 times along the way. Ryan Allen (NJ) was first in 51:39.97 and Clayton Stoil (VA) second in 52:42.74.
Thanks to Tim Seaman and everyone at the race who made this event happen. Heartfelt congratulations are in order for these 5 courageous, talented and driven young men and women. They're generally underappreciated and given very little exposure and respect for the work they do, especially with the hurdles they face which are set way higher than in any other event in the sport.
The low turnout was related to a few issues: An earlier than normal Trials event, west coast location, Covid protocols being in place and a compressed calendar because of the earlier World event in March when it is normally in May.
The biggest concern however is the ongoing lack of a development program within USATF (nationally and in the clubs at the Association level) that introduces young men & women to the event. The complete lack of any HS program outside of Maine and NY is a catastrophe. Simply put, outside of a few pockets of hyper-focused groups scattered about the nation with a handful of athletes with ability and drive, the US program to develop HS & U20 Race Walkers is a disaster of epic proportions. Resolving this issue is another article for another day, but it starts and ends with coaches, who are the root cause and the solution at the same time.