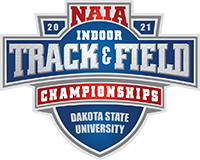 The NAIA has addressed it's 2021 Indoor Champs by changing the meet location, schedule and qualifying procedures. While the location has caused some logistical issues for teams being able to find hotels close to the venue, the scheduling and qualifying were adjusted to make things easier for everyone. Normally held over 3 days, the meet was extended to 4 to allow for alternating schedules for each gender. The traditional qualifying performances were replaced with a top 16 approach to ensure all events were fully seeded.
The Women race Friday March 5 at 9:10am, the Men race Saturday March 6 at 9:00am. The location of Yankton, SD is on Central Time.
Fields and previews are below in that order.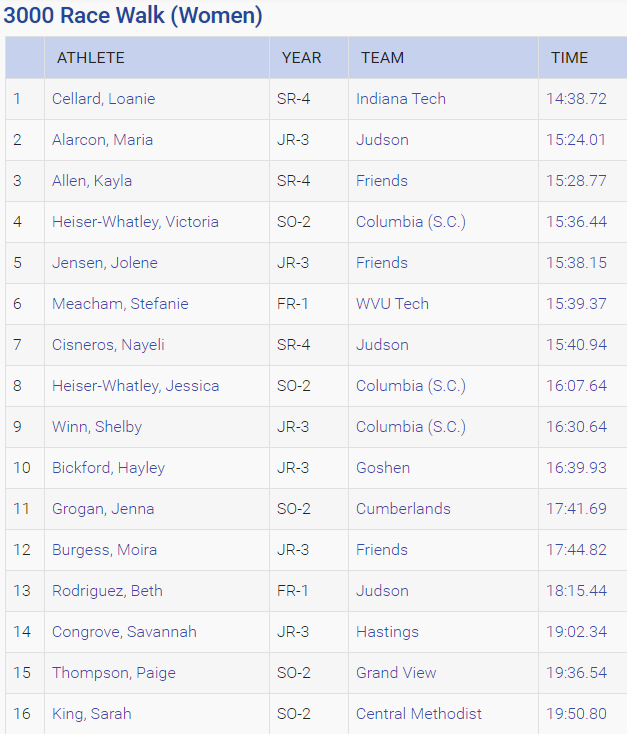 Nothing in Race Walking is ever a given, but based upon qualifying times, Loanie Cellard of Indian Tech should take this race pretty easily. The battle for the remaining 7 podium spots should be fierce. 43 seconds separates 2-8 and many of these women have not gone all out this season. Highly competitive events like this usually involve decisions of the judging crew and that could move athletes up to the medals and seriously affect team scoring in the meet. Anyone in the top 10 is capable of medaling on a good day.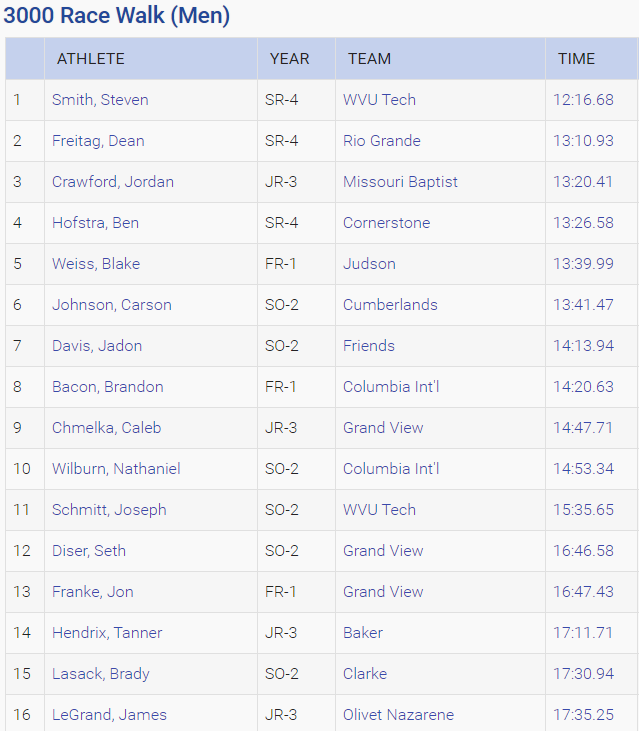 Just like the Women, the Men have a clear gap behind the favorite Steven Smith of WVU Tech. Here too, spots 2-6 are only separated by 31 seconds, so the competition will be tight. Athletes in that group, and those just outside of it, will need to race intelligently to maximize their point scoring ability without going outside of acceptable technique. Just like their female counterparts, anyone in the top 10 is capable of reaching the podium.
The officiating crew is very experienced and has worked this meet many times and others of this level. Judging will be stringent, but applied fairly and consistently to assure equal application of the rules and a fair competition, just like every other event in the meet.
Important Links to follow the action:
Live Stream
(Multiple channels will be available each day covering different events)
Championship Program
(Complete history of the meet)